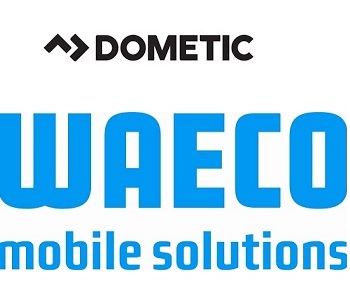 The Dometic Waeco CFX75DZW a highly impressive 75 l dual zone fridge and freezer with easy operation and capable of heavy-duty operation. This portable fridge/freezer has an excellent cooling performance, even in high ambient temperatures.

If you want to store fresh food and bottled drinks this fridge and freezer will satisfy all your needs. The Dometic Waeco CFX 75DZW with its two temperature zones makes simultaneous cooling and freezing possible. This high-tech compressor fridge and freezer is impressively efficient, quiet and built to withstand the most demanding of loads; yet is also remarkably lightweight and easy to transport. Boasting two separate compartments which can each operate independently as fridges or freezers, the powerful compressor cooling technology can achieve –18 °C, simultaneously in both compartments, at up to +32 °C ambient temperature! Take it with you in the caravan, camping or on the boat, basically anywhere you have access to 12 or 24 V DC or 100–240 V AC power (also suitable for solar operation).

The Dometic CoolFreeze CFX has some seriously impressive features. Firstly, there's the CFX Special Electronics which include an intelligent automatic turbo cooler and memory function. Then not only is it suitable for deep freezing down to –22 °C but it can also operate on solar power. Plus, regardless of the outside temperature, this cooler will provide a first class, superbly quiet cooling performance. You can take this amazing cooler and freezer wherever you go! Fitted with heavy-duty details like reinforced corners, stainless steel hinges and a robust lid lining, the hi tech coolers in the CFX series can withstand the most demanding of loads.

The CFX75DZW also comes with a Wi-Fi which combined with the CFX app you to set, control and monitor the temperatures of each compartment from your smart phone or tablet.


The Dometic Waeco CFX75DZW is perfectly built for camping and low battery consumption the CFX75DZW portable fridge also has an energy efficient LED interior light and USB port to help charge those portable devices.


Large gross capacity of 75 l (45 l and 30 l compartments)

Store fresh food and drinks effortlessly with three removable wire baskets and space to fit up to 113 cans and ability to fit upright Riesling bottles

Two separate compartments for cooling and freezing in any combination desired to be set - freezer/freezer, freezer/fridge or fridge/fridge

Easy-to-use Wi-Fi app to help set, control and monitor temperatures in each compartment from a mobile device

Both lids are completely separate, detachable and reversible for functional use

Both compartments can be set between 10 °C to –22 °C, with the ability to run at –18 °C simultaneously at ambient temps up to 32 °C

Energy efficient compressor technology provides fast and efficient cooling and freezing, even in extremely high outside temperatures
Dimensions:

Dimensions product depth 495 mm
Dimensions product height 472 mm
Dimensions product width 887 mm
Gross volume (DIN15502) 75.00 l
Storage volume - total (DIN15502) 70 l
Net weight 31 kg