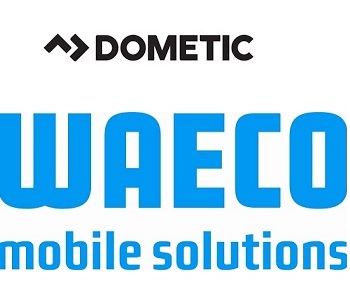 CFX40 with Insulated Protective Cover
The Dometic Waeco CFX40W 12 Volt Portable Compressor Fridge Freezer is the newest addition to the next generation CFX range. This intuative unit comes with a Wi-Fi CFX application which allows user control and connectivity of compartment via their smart phone or tablet. With an innovative and rugged design it provides energy efficient performance and extreme cooling, even in the harshest conditions. This long lasting fridge or freezer is the best choice for any caravan and camping trip.

The Dometic Waeco CFX-40W is an efficient and robust portable compressor single zone fridge or freezer designed to keep your food and drink fresher for longer. Simply choose the temperature between +10 °C and –22 °C to best suit your cooling or freezing needs. Take it with you in the caravan, camping or on the boat, basically anywhere you have access to 12 or 24 V DC or 100–240 V AC (and it is also suitable for solar operation).

The CFX-40W comes with a basket, features a dairy compartment for perishables and can fit 60 cans and up to a standard Riesling bottle upright. The Dometic Waeco CFX-40W 12 Volt Portable Fridge Freezer has been designed to suit those that need larger and more versatile portable storage. The Dometic Waeco CFX40W portable fridge is the ideal fridge for those going away with a large family or group of friends, no matter if you are on the road or water, this portable fridge is perfect for a long weekend getaway or that large outdoor party.

The Dometic Waeco CFX40W is perfectly built for camping and low battery consumption the CFX40W portable fridge also has an energy efficient LED interior light and USB port to help charge those portable devices.
With the name change also comes some new features in the construction such as the easy to carry space saving folding and detachable carry handle, whilst being constructed of robust material with reinforced corners. The new CFX range has undergone an external redesign; featuring a sleek black and grey colour scheme.


Quality Features:


WiFi capability

Dimmable display

Strong drop down handles

USB charging outlet

Robust metal hinge design and detachable lid

Studry lid latch

Generous lid seal gasket with air pocket

Extra thick polyutherine insulation

Ergonomic control panel

Power entry with cord organiser

Low power consumption

VMSO (Variable Motor Speed Optimisation) MK 2

Inbuilt 3-stage battery protection

Injection moulded lid

Inbuilt nutserts

Rubber mat insert in lid

Practical storage & easy cleaning

Interior multi-point LED light with magnetic switch