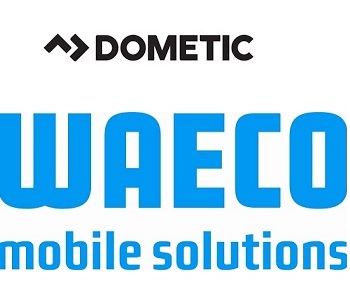 The Waeco CFX50W Dometic CFX-50W 12 Volt Portable Compressor Fridge Freezer is one of the next generation CFX models. The Waeco CFX range of portable coolers revolutionised mobile living for campers and the new CFX range only further enhances the experience.

The latest WiFi technology has been included in new CFX units, allowing consumers to monitor and control the temperature of their unit remotely. The new CFX units can be simply controlled from smart devices via the CFX app.

The Dometic CFX-50 is an efficient and robust portable compressor single zone fridge or freezer designed to keep your food and drink fresher for longer. Simply choose the temperature between +10 °C and –22 °C to best suit your cooling or freezing needs. Take it with you in the caravan, camping or on the boat, basically anywhere you have access to 12 or 24 V DC or 100–240 V AC (and it is also suitable for solar operation). The CFX-50W comes with a basket, features a dairy compartment for perishables and can fit 72 cans and up to a standard Riesling bottle upright. The genuine WAECO compressor and unique Variable Motor Speed Optimization technology helps the CFX range operate efficiently, even in extreme conditions.

The new Waeco CFX50W Dometic CFX-50W portable refrigerator has inherited all of the great features the mobile living market has come to expect with products. In addition to the robust design of the new CFX50W, the included Variable Motor Speed Optimisation ensures excellent cooling performance and energy efficiency.
With the name change also comes some new features in the construction such as the easy to carry space saving folding and detachable carry handle, whilst being constructed of robust material with reinforced corners. The new CFX range has undergone an external redesign; featuring a sleek black and grey colour scheme. The interior of the new CFX range is lit up by crisp LED lighting.

Along with all the great features of the existing CFX range, the Dometic Waeco CFX50W has a genuine high performance compressor with cooling down to -22 Degrees Celsius.


Quality Features:


WiFi capability

Dimmable display

Strong drop down handles

USB charging outlet

Robust metal hinge design and detachable lid

Studry lid latch

Generous lid seal gasket with air pocket

Extra thick polyutherine insulation

Ergonomic control panel

Power entry with cord organiser

Low power consumption

VMSO (Variable Motor Speed Optimisation) MK 2

Inbuilt 3-stage battery protection

Injection moulded lid

Inbuilt nutserts

Rubber mat insert in lid

Practical storage & easy cleaning

Interior multi-point LED light with magnetic switch




Dimensions:

Dimensions product depth 455 mm
Dimensions product height 471 mm
Dimensions product width 721 mm
Gross volume (DIN15502) 50.00 l
Storage volume - total (DIN15502) - Display 46 l
Net weight 20.40 kg