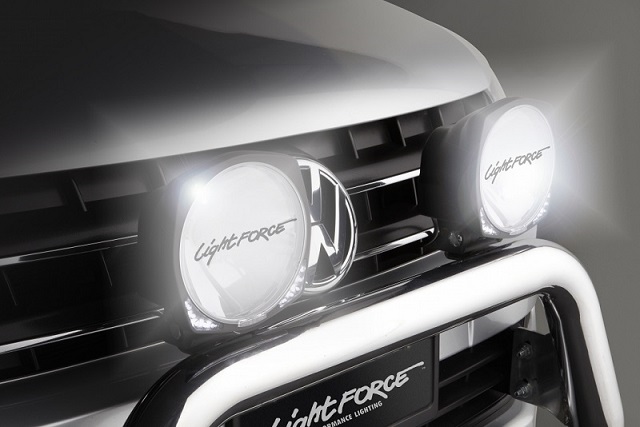 Twin Pack (Pair)

The Lightforce 170 Venom 50W HID are outback tough with city style. Created specifically to fit any factory bull bar, from small SUVs to hard-core off road vehicles the 170 Venom is compact without comprising on performance. The perfect driving light for the Car, 4WD, Truck, Bus, Motorhome or RV.

An evolution of the most popular sized Lightforce driving light with additions that have lifted it to the next level. Created specifically to suit small SUVs and 4WDs and packing a performance punch. Unique 25mm clearance combined with a four point mounts for a new level of installation compatibility within a compact mounting envelope. Small LED lights surround the edge of the light to provide added safety and a sleek edge to Lightforce 170 Venom 50W HID.

Combining ten years of research and development with the latest in technology and style, the proudly Australian made Venom brings long distance driving lights to the next level. Featuring a series of hi-tech LED lights surrounding the edges; Venom incorporates a level of distinction not previously seen in the Lightforce range. Not only looking sleek and stylish, the additional LED lighting provides a level of safety that over shadows other driving lights on the market.

Lightforce is renowned for the best after sales service in the industry working hard to deliver lights where premium materials and rugged strength are matched by quality of build, leading to a long and reliable lifetime of use. All driving lights are guaranteed with a 3 year warranty.

For the best looking set of driving lights look no further than the Lightforce 170 Venom 50W HID.


1 Lux @ 1360M



FEATURES:


A unique 25mm shallow format design especially for today's new generation SUV's

Hi-Tech LEDs surround the corners for improved pedestrian safety and an added level of distinction no previously seen in the Lightforce range

Genuine IP65 rating, dust tight and water proof with Gore® Protective Vents (IP57/67/68/IP69K) to protect against moisture / contaminant ingress

Corrosion resistant featuring a salt spray rating to ISO 2007

EMC approved with low radio interference, suitable for OEM installations

German engineered Osram ballast and bulb for a rapid start up, quickly achieving full brilliance.

The superior Osram bulb delivers a full spectrum 4200k colour temperature with good contrast for long distance driving

Clear spot clip on filter supplied - combo and crystal blue spot filters available

3 year warranty