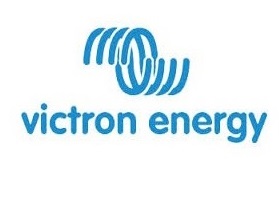 The Victron Battery monitor BMV-712 is a high precision battery monitor with a fuel gauge type of display. The essential function of a battery monitor is to calculate ampere-hours consumed and the condition of the charge of the battery. Ampere-hours consumed are calculated by integrating the current flowing in or out of the battery.

With Bluetooth built-in, the BMV-712 Smart is ready for the Internet of Things (IoT) era. With Bluetooth being implemented in most other Victron Energy products, wireless communication between products will simplify system installation and enhance performance.

All electrical connections are to the quick connect PCB on the current shunt. The shunt connects to the monitor with a standard RJ12 telephone cable. The RJ12 cable (10m) and a battery cable with fuse (2m) is included. No other components are needed.

Also included is separate front bezel for a square or round display appearance, a securing ring for the rear mounting and screws for front mounting.
Standard features
- Battery voltage, current, power, ampere-hours consumed and state of charge
- Remaing at the current rate of discharge
- Programmable visual and audible alarm
- Programmable relay, to turn off non critical loads or to run a generator when needed.
- 500 Amp quick connect shunt and connection kit
- Shunt selection capability up to 10.000 Amps
- VE.Direct communication port
- Stores a wide range of historical events, which can be used to evaluate usage patterns and battery health
- Wide input voltage range: 9,5 – 95 V
- High current measurement resolution: 10 mA (0,01A)
- Current consumption: 0.7Ah per month (1mA) @ 12V and 0.6Ah per month (0.8mA) @ 24V
- Additional input to measure voltage (of a second battery), temperature or midpoint voltage and corresponding alarm and relay settings
*Mobile device not included